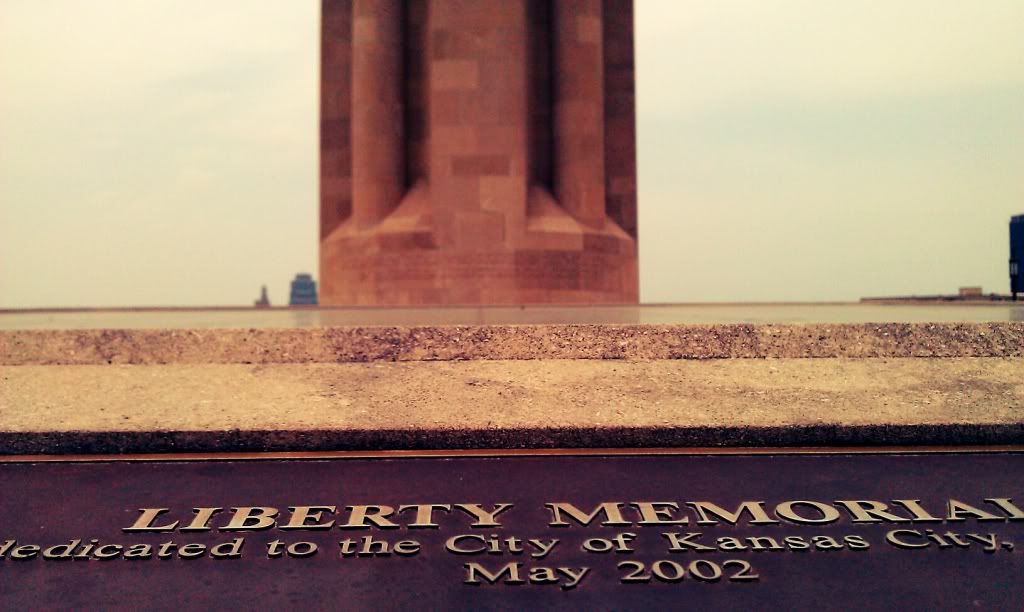 I visited the Liberty Memorial/WWI Museum the other day. Not because it was Memorial Day weekend. I'd actually completely forgotten that fact until I got there and saw flowers placed at its base and tons more patrons than I'd expected.
No, I went there because I was nearby and forgot to use the bathroom at Succotash after brunch there. I'm not sure if you know this, but there aren't a lot of bathroom options in that part of town. So, I stopped at the museum to use their bathroom and afterwards decided to have a look around. I paid my 5 bucks and went up the tower for a look-see.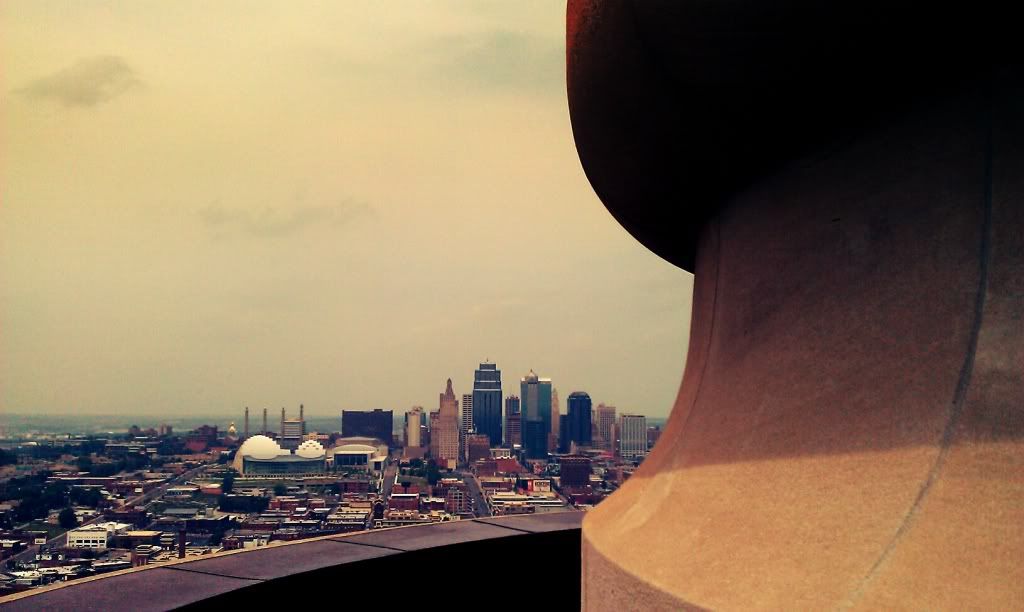 It was a beautiful day and I kept overlooking the whole Memorial Day weekend thing for this photo op or that view or whatever… but occasionally it would hit me and it was weird. I just don't get it. I just don't understand wars and military and fighting and patriotism. I don't understand why people join the military. I don't understand why people fall for propaganda. I guess belonging makes us feel good. Being in the club gives us a special feeling. I get that. But is it something to die for? Is it something to kill for?
So, yeah. I do not support the troops. I'm sorry to say it on Memorial Day, but it's been on my mind what with all the patriotism floating around all the social media networks of late. If you want to support our troops, tell them that they don't HAVE to join the military. They don't HAVE to fight. They don't HAVE to kill. We will still maintain our freedom and our values without their "ultimate sacrifice" and there are lots of ways to get money for college. THAT'S how we can offer our support.
My father was in the military. He was deployed in WWII. He was a smart man (I assume - didn't know him, really). And I understand for some young people, joining the military is just what they do in their family. But hey, sometimes family traditions are worth breaking and change is, in fact, required for growth. This is how we evolve. I was fortunate enough to know, I mean really deep down know, when I was 18 and got that inevitable army recruitment call every soon-to-be high school grad will get, that I was not cut out for such a thing. That I didn't have it in me to be persuaded that it would be good for my future. That I do not support war and do not support those who support war… 
The "Support the Troops" movement is propaganda. Plain and simple.
The U.S. government's cry to the American people during recent wars has been: "Support the troops." A person might disagree with the war itself. Or the president may have failed to secure the constitutionally required congressional declaration of war. But, the government says, put all objections aside once the shooting starts. What matters then is that the people support the troops. The strategy is always effective in diminishing opposition to the war. - Jacob G. Hornberger, 1995 "Repatriation - The Dark Side of WWII" at http://www.fff.org/freedom/0895a.asp
It's a strategy. Just like everything any government official or governing body does. It's all strategy. Remember all the talk after Obama "came out" in favor of gay marriage? Remember all the ranting about how it was mere political strategy? Duh. He's a politician. And speaking of WWII, did German citizens support their troops? Yes, for a great while, they did. And what were the German troops doing. Oh that's right, genocide.
But eventually the German citizens withheld their support once they realized they'd been lied to. Well, when is it time for us to wake up, America? Don't support the troops. Don't support war. Seek peace and remember anti-war activists with the same (if not more) respect on Memorial Day. Remember those who speak out against injustices and against government manipulation of freedom and of its people. They are the true heroes. They are the ones who protect the values of our country and their necks are as much on the line as any soldier who is barely old enough to vote but willing to be killed, or kill. They, not troops, are the brave ones.
why must itself up every of a park
anus stick some quote statue unquote to
prove that a hero equals any jerk
who was afraid to dare to answer "no"?
quote citizens unquote might otherwise
forget(to err is human;to forgive
divine)that if the quote state unquote says
"kill" killing is an act of christian love.
"Nothing" in 1944 AD
"can stand against the argument of mil
itary necessity"(generalissimo e)
and echo answers "there is no appeal
from reason"(freud)--you pays your money and
you doesn't take your choice.  Ain't freedom grand
- e. e. cummings
And here's a visual of what's been stuck up this particular park's anus. Appropriate for a country being fucked by its government. NOW is the time to turn around people and demand that they PULL OUT! Pull out of Afghanistan! Pull out of Iraq! And pull out of our collective ass because we are wise to you and won't be fooled any longer!